← Back to portfolio
A Beginner's Guide to Madrid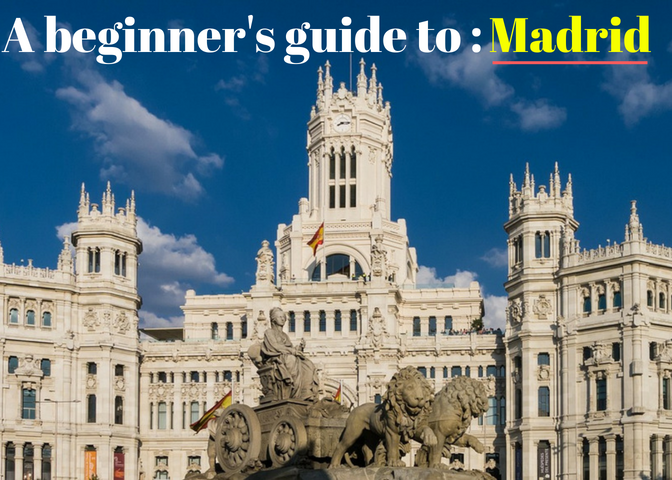 Madrid, or as locals pronounce it "Math-ree-d," is a city located in the heart of Spain. From seeing "Las Meninas" to trying paella for the first time, this city will make you fall in love. Madrid has a long list of incredible places, but I've cut it down to the "must see" of the city.
Places to go:
1. Plaza Mayor: 
This plaza is a great place to start your trip because it's located right in the center of Madrid and it's walking distance to most of the places you'll want to see today. It has 9 entrances and each one leads you either to El Botin,Mercado San Miguelor Puerta del Sol, which you'll learn more about later.
Fun fact (yet, terrifying): During the Spanish inquisition this square was were some of the executions took place.  
2. The Buen Retiro Park (Parque del Buen Retiro): 
This is the most famous park in Madrid. It's a 350-acre park with an artificial pond and a beautiful crystal palace.  You can also find another palace called Palace of Velasquez, which serves as an exhibition hall for The Reina Sofia Museum. This is perfect for long walks after you've eaten half of your body weight in tapas. 
Fun fact: You can view the interior of the Palace of Velasquez through Google Street View.
3. Royal Palace of Madrid (Palacio Real de Madrid):
Although the last royal who actually lived in this palace was King Alfonso XIII in the early 20th century, the Royal Palace of Madrid still serves for state ceremonies. The palace also functions as a museum. In 1934, there was a fire in the palace that destroyed many of the painting, but some artwork like "Las Meninas" by Diego Velasquez, which is now in El Prado, managed to be saved by being tossed out of the window. 
Fun fact: King Alfonso XII abdicated his rights, and this marked a new era for Spain because the Spanish Republic began under the leadership of Francisco Franco. It wasn't until Alfonso's grandson, Juan Carlos I, who restored the constitutional monarchy in 1975. 
4. Puerta del Sol
The Puerta del Sol is public square at the center of Madrid. It's known to be one of the busiest areas since it's surrounded by some of the country's best-known fashion stores. Puerta del Sol is also located next to the street "Gran Via", which is also well known for its shops. The square is also a focal point for political protests and famous for the countdown during New Year's Celebration. 
Fun fact: While we might now have alerts or twitter, during the 17thand 18thcentury this was the place to be when you wanted to hear the latest news. 
5. Puerta de Alcala:
Although the name is a bit misleading since the word "Puerta" means door, Puerta de Alcala is actually a gate. During the 18thKing Charles III decided to have a monumental gate through which a road would lead to the city of Madrid. It's often compared to other monuments like the Arc de Triomphe in Paris and the Brandenburg Gate in Berlin.
Fun fact: Just like Frank Sinatra has his famous "New York, New York" song, during the 80's Victor Manuel and Ana Belen, both Spanish singers, debuted a song called "Puerta de Alcala" and told the tales of everyone through history who had crossed this gate. The song remains as one of their greatest hits and is really catchy if you know Spanish. 
Museums:
If you're interested in European Art:
Museo del Prado
Paris has the Louvre and although it's not as grand, Madrid has it's Prado. By far the most famous museum in Madrid. The residence of "Las Meninas" by Diego Velasquez, "La Maja desnuda" by Francisco Goya, "The adoration of the Shepherds" by El Greco, and Hieronymus Bosch's "The Garden of Earthly Delights." 
Fun fact: Before it became a museum "El Prado" was used as a headquarters for the Napoleonic troops based in Madrid during the war.
If you're interested in modern art, especially by Spaniards:
Museo Nacional Centro de Arte Reina Sofia:
Named after Queen Sofia this museum features mostly modern art by Spanish artists. Two of the most symbolic Spanish artists from the 20thcentury is Pablo Picasso and Salvador Dali. Their most notable works are here in this museum. Starting with "The Guernica" by Picasso and "The Great Masturbator" by Dali. It also features other Spanish artists like Joan Miro, Pablo Gargallo and Edwardo Chillada. There are some international artists mixed in like Vasily Kandinsky, Francis Bacon and Max Ernest.
Fun fact: "La Guernica" was painted in response of the bombings of Guernica at the request of the Franco regime during WWII. During 1937, this painting was exhibited in Paris during the World Fair. All the funds raised during this tour went straight into Spanish war relief. It's very important because it brought attention to the Civil war in Spain. 
Some specialties you must try while in Madrid:
1. Market of San Miguel:
 One of the 9 entrances in the  'Plaza Mayor' has 9 entrances will lead you to this market.. The reason why I recommend this place is because you'll encounter specialties from all over Spain . "Tapas" which means appetizer or snack is very popular in Spain.
Octopus (Pulpo):octopus cut into small slices and cooked with olive oil a pinch of salt and paprika.
Goose-Neck Barnacles (Percebes): these won't be easy to find in central Spain, since they're mostly popular in northern Spain, but this might be your only chance to try them. 
Padron Peppers (Pimientos):These aren't your typical peppers. First, they are cooled with olive oil to give it a crunchy taste and then salt. They are not spicy and definitely one of the top specialties in a Spaniards kitchen.
Patatas Bravas: These potatoes are boiled and then deep fried, but what sets them apart is the sauce. The tomato like sauce along with paprika, red pepper and vinegar which makes them "Bravas," translates to "feisty."
Croquetas: Considered a tapa this is a fried roll usually consisting of potatoes, jamon iberico or cheese.  
Paellas:Just like Mexico is known for tacos, Spain is known for its paellas. Paellas is a rice dish that usually has meat like chorizo, seafood and veggies. The not-so secret ingredient for paella is saffron, which you'll be able to buy a lot of while in Madrid. 
Finally, there is a "sweets" section, but if you're down for eating some fruit and carry on as a  snack, I recommend the cherries. They'll give them to you in a brown bag so that it'll be easy to carry as you go on your day discovering the city. 
2.Restaurante Sobrino de Botin:
Sobrino de Botin, also known simply as Botin, is supposedly the oldest restaurant in the world. It claims to have opened its doors in the mid 18th century. One thing is for sure, you need try their roasted pork before you leave Madrid. 
Fun fact:Francisco Goya, the world-renowned painter, worked in this restaurant's kitchen when he was 17 years old in 1765.