← Back to portfolio
Meet Denise O'Brien, owner of Villa Kalliste and Villa Millianna in Kefalonia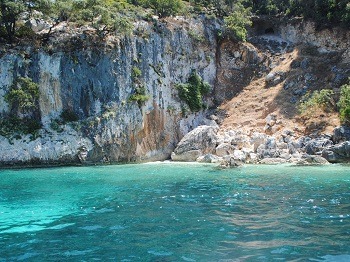 Our 'Meet the owner' series is back and today we are chatting to Denise O'Brien. Along with Vincent, Denise owns and runs two beautiful villa rentals, Villa Kalliste and Villa Millianna, on the stunning Greek island of Kefalonia. The Greek Islands are an absolutely beautiful location for a holiday; pouring over the pictures of Denise's properties, we're more than a little jealous! So without further ado, let's dive into the paradise pool.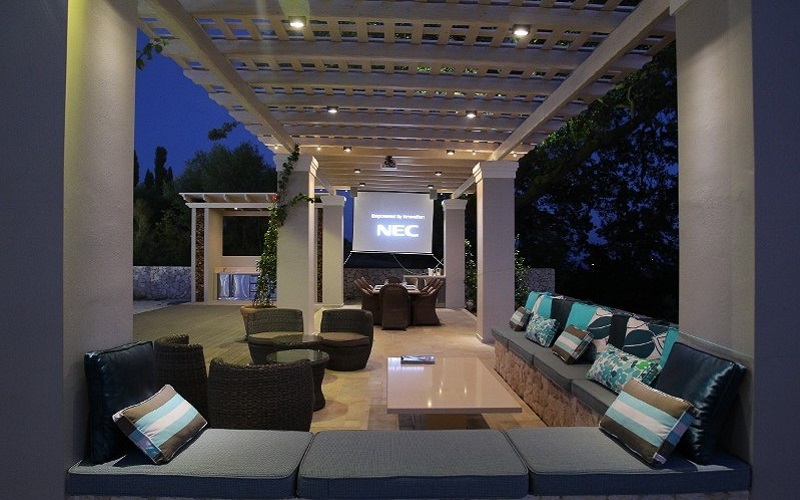 How did you decide to buy or own a holiday rental home?
We own two villas in Kefalonia and neither purchase was a conscious decision to buy a holiday rental home. We visited Kefalonia for two consecutive years from Australia, and decided to take the plunge and buy a beautiful two-bedroom, two-bathroom villa as a holiday home in Kaligata – near the Blue Flag Avithos Beach in the Livatho region. With so many friends and family from Australia, Ireland and the UK wanting to visit however, that villa was clearly going to be too small to accommodate all the requests! We decided to rent out Villa Millianna too as there was good demand for luxury, apartment-style villas, ideal for one or two couples or small families.
How and why did you choose the location?
From the minute we arrived in Kefalonia we fell in love with the island. It offers everything you could ask for as both a place to live and to holiday. Kefalonia has stunning scenery, world-class beaches and gorgeous fresh, predominantly organic, food and wine. It also has the most friendly, generous, witty and genuinely hospitable people with whom we have formed a great bond.
The charming, rustic village of Kleismata in the south of Kefalonia, surrounded by olive groves and vines with its stunning views of the Ionian Sea and the magical Mt. Ainos, provided our dream location. We then built our five-bedroom, four-bathroom villa with separate guest house over 15 months; the result was Villa Kalliste, which means Villa 'Most Beautiful'. Afterwards, we set about finding our dream block of land to build a larger villa for ourselves! Our vision for this villa grew in size and grandeur each day of the build, to do justice to this outstanding plot of land we had purchased. We decided, once completed, that the villa was too magnificent for just the two of us to enjoy, and again, buoyed by a lucrative rental market, we rented out the villa for a short period during the summer months.
What advice would you give people if they are thinking about owning a holiday home?
If you are building your dream home select the best builders available. Do not cut corners to save money as it will end up costing you more in the long run! If you are not fluent in your host country's language, make sure your builder speaks good English. Even then, many things may get lost in translation so if you can, be hands on. Check the detail! Do not worry so much about a water-tight contract; just make sure you have a gut feeling of trust for the company you choose. If something seems not quite right, then it probably isn't. If you are building in a southern Mediterranean country, do not expect that things will be organised in the same way as, or that the project management will be anything like, the UK.
Look at the drainage situation around you and make sure you know where the water will go in torrential autumn rains; if you are located down hill, will the water end up in your place? Build or buy wherever possible on flat land at the top of a hill – not on a hill side or at the bottom of the hill! If you are planning to buy a holiday home and rent it out, make sure you decide how much time you plan to spend there. Realistically, can you visit at least two or three times per summer to justify the purchase? Will you get bored with going to the same place over and over? Will your children get bored with going to the same place over and over? Make sure you can detach from your 'home', and not get too stressed about renting it out to complete strangers. If you can't face this thought, you'll cause yourself unnecessary stress. Employ the services of a good property manager (make sure you have references) and where possible do not visit your home when guests are there; you may be upset at what you see! In reality, guests rarely do damage, save the odd broken glass. If you have a high-end property, considering collecting a bond.
What's the best thing about renting out your holiday home?
Being able to use your villa at either end of the season, knowing your costs are being funded by your summer patrons.
Meeting guests and giving them an insider's snapshot of your destination; it's rewarding.
Sharing the excitement of your guests when they book with you and finally arrive. It makes it fun! Their appreciation of your home when they leave also gives you a warm feeling.
"From the minute we arrived in Kefalonia we fell in love with the island. It offers everything you could ask for as both a place to live and to holiday".
What's the most challenging part of renting out your holiday home?
Making sure you have the correct documentation and licenses to operate your villa can be very challenging and frustrating. This can be a time-consuming process so make sure when you buy or build your home that you are very clear on the laws of the country in relation to renting your home. Your real estate agent or local project manager should be able to provide you with all this information. Do not be fobbed off that licenses to operate are not necessary. Make sure you know and obey the laws of the country and are up to date with all the tax implications on your income. Another challenging part of renting your home is selecting and sticking to a changeover day. Being flexible may get you an instant booking – but then you may be stuck with four or five days in peak times that you cannot sell. This juggling act is hard to get right in the initial stages; as you gain confidence, however, you'll know that turning down one booking that does not quite fit becomes beneficial in the long run as you find the perfect one to fill its place.
How long have you advertised on HomeAway and why did you choose the website?
We have advertised on HomeAway for four years with one property (Villa Millianna) and for two years with the newer one (Villa Kalliste). When we bought Villa Millianna, the owners were already using HomeAway. They were enjoying success, so we opted to keep this going and have been very happy with the results. The price is affordable and the site is user friendly. Used in conjunction with Owners Direct, we enjoy great success. We had reservations about using HomeAway in the marketing strategy of our high-end luxury villa. We felt our demographic may not be sufficiently targeted. However, we decided to list and experiment with the site as it was a small investment. It was also a much cheaper option than using a villa management company who take up to 20% commission on a booking. This commission structure would have forced us to increase our rental rates, thus making the market price of the villa too expensive. We were delighted with the unexpected results with HomeAway and again, in conjunction with the joint Owners Direct package, we have successfully filled our desired rental period.
How have you managed to maximise the performance of your listing?
It is necessary to constantly update your bookings and keep your reservations calendar up to date. This gets you back to the top of the list when potential guests log in. But the most important thing is to have great photos: make sure the property looks light and bright, and if possible, employ a professional photographer. Do not have people in your photos; add props such as flowers and wine/wine-glasses to tables instead, and neatly folded pool towels to sun loungers. Add in a few shots of the local vicinity, but do not let them dominate or people will think you have something to hide by not showing many villa shots. Answer all inquiries within 12 hours and use people's names in the summary paragraph. Offer to assist with flight information, car hire, local babysitters etc. Go the extra mile on the first point of contact.
Have you any wonderful stories of renting out your holiday home?
Yes! Our first ever booking was for a Russian family of five, who flew in from Moscow on a private jet and stayed for a month. We engaged two nannies and a chef for the duration of their stay. They were wonderful people who took us out for dinner a couple of times and invited us to visit them in Moscow. They put down sheets all over the furniture so the three children (all under the age of three) did not leave their mark! They were fabulous guests. Another group of Australians rented the villa in September 2013. One of the couples got engaged whilst on holiday in Kefalonia, and they are returning in September 2015 to get married at Villa Kalliste with 50 family members. We also had another couple who got engaged in Villa Millianna; very exciting times!